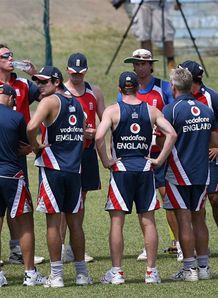 There are more alleged smoking guns off the field than on it in the build up to India's second tour of Sri Lanka in five months.
As Sri Lanka's collective shoddy batting in Zimbabwe, Bangladesh and then Pakistan where they were hammered in the first game drew heavy flak, a firing squad has metaphorically been patrolling the leafy confines of Sri Lanka Cricket. It has been taking aim at more than Mahela Jayawardene's team after losses to Bangladesh and Pakistan and laboured efforts against Zimbabwe.
Not at all a great prognosis for a fifteen-day India tour of the island, starting in Dambulla in less than a week and barely five months after winning their last ODI series 3-2.
Seen as a stopgap event after the so-called controversial cancellation of their Pakistan tour, India's cricket wallahs agreed to the plaintive appeal from their pauper cousin Sri Lanka Cricket. In the end, they agreed to fete them with a tasty banquet as part of a ten-year funding exercise. Suggestions are though that the US$45-million bailout comes loaded with certain puppet strings.
After all, you should not expect a free lunch, or banquet, in such a tricky economic climate.
Anyway, no one either gets an invite to pay a courtesy visit to the island nation's president Mahinder Rajapakse in such pressing times as this while there is a civil war on the on the boil, unless there is some specific reason. Old SLC insiders say that N Srinivasan, secretary of the Board of Control for Cricket in India, came with some special package deal and approval from friendly political sources in India and the Sri Lankan Government.
While there are accusations that Arjuna Ranatunga was ejected as the last Interim Committee chairman a month ago in a palace revolt that backfired, the BCCI's two-man presence in Colombo was full of praise for Sports Minister Gamini Lokuge and his style of behind the scenes management.
Only the revolt against Ranatunga also led to other interim members losing their positions on what was for a long time a board allegedly no longer consulted on SLC affairs. It had been run at times by autocratic one-man decree with an inner coterie help. Interim Committee members read about acceptance of tours and other events in the local media.
He is known to be strongly anti-Indian Premier League and as such not great pals with Lalit Modi but he is pro Indian Cricket League to spite the IPL commissioner.
He was strongly in favour of international cricket and dismissed the IPL format as supping on T20 style noodles. The three-year contracts with IPL franchises which Sri Lanka's top players signed, was disputed. It was here where his presence as SLC chairman was seen, in upper BCCI hierarchy, as a reason for failure to agree to an initial bail out deal of US$45-million.
His decision to accept an invitation from Pakistan for a patched up tour replacement for India even before the Indian Government ordered a cancellation of the tour did not go well with BCCI.
There was, too, the embarrassment that when tenders were called for renewed sponsorship on the team and it's clothing merchandise, there were none. The politics of the way the board was run was said to be at fault.

Source:cricketnext.in